Do you want to see all of your data whether on premise or in the cloud through a single pane of glass using live dashboards and rich visualizations? Power BI supports you in exploring the interpret data, driving decisions, increasing efficiency and cutting costs.
Are you interested in how Power BI could support your organisation?
Why not register to our upcoming Power BI Bootcamp & Training which is given by our Senior Power BI Consultant!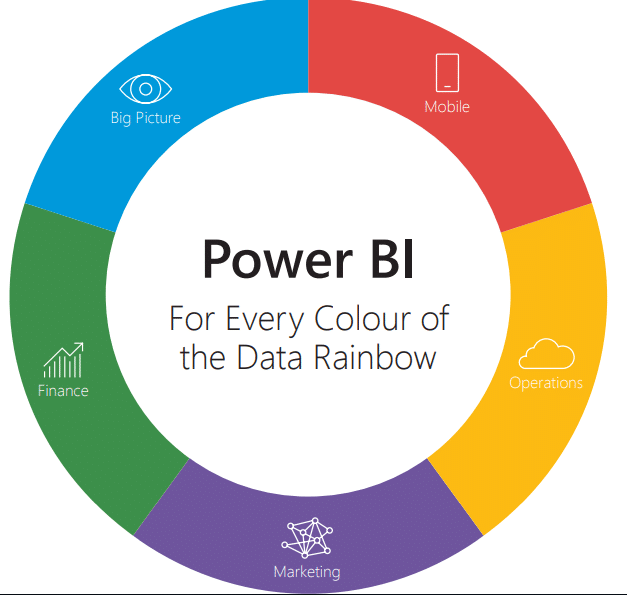 Business decisions are complicated and informed actions that rely on data. See how you can use the rainbow to discover a more colourful picture of your business.
Red: Mobility and agility
In a fast-paced organization with remote or on-the-go workers they need quick access to data wherever they may be.
Orange: Operating with intent
This is the colour of the business operations, from resource allocation to sales data to maintenance. The Orange data is the infrastructure on which your organization is built.
Purple: Meaningful marketing through insight
Purple is the colour of marketing agencies and departments, who bring to life an organizations identity and help transmit it to an audience.
Blue: Big picture thinking
Blue relates to vast organisations with complex data streams that envision aggregation of multiple sources to generate insights.
Green: Finance & Growth
Green organisations need rapid insights from financial data that changes swiftly and must also consider how to stay in compliance with federal and local regulations.
---
See how you can use Power BI to build your data rainbow in 3 easy steps:
Gather your data – Power BI allows you to collect all of your data and have it in one place so you can easily explore rather than having to navigate across different platforms and programs.
Craft data stories – Ability to analyse your data with ease and create interactive reports that reveal the stories hidden withing your data.
Collect and share – give your team the power to make quick, confident decisions that are driven by real-time data, so that everyone stays current with the metrics that matter.
---
Enjoyed this topic? Read more below!
Download the E-book here to delve deeper into the Power BI Data Rainbow